We are in dire need of a trip to the grocery store so our options for dinner are very limited. I wasn't feeling well yesterday and was busy chasing around a naked toddler (yay potty training/learning!). This caused me to forget to soak some beans for dinner. So I decided to make some pototo soup. Unfortunately I didn't have all the ingredients for my mother-in-law's recipe, so I made my own with what I had. Here is the recipe, other notes will follow.
CREAM OF POTATO SOUP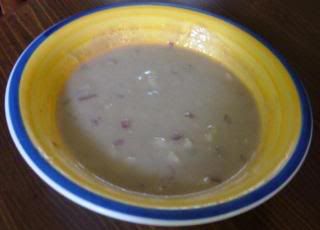 6 medium red potatoes
6 chicken buillon cubes
5-6 cups hot water
1/4 cup butter
1/4 cup whole wheat flour
2 cups milk
1/2 teaspoon salt
1/4 teaspoon pepper
1 teaspoon sugar
Rinse and chop potatoes into 1/2 - 1/4 inch cubes and place in hot water with the buillon cubes. Bring to a boil over med. high to high heat. While the potatoes are cooking melt butter in a sauce pan. Using a fork or a whisk to stir in flour, gradually. Make sure this stays smooth. Slowly add milk to the butter and flour mixture, making sure it does not become lumpy. If you are using a whisk you should be able to go a little bit faster. When all the milk is in and the mixture is smooth stir in salt, pepper, and sugar. Bring this to a boil and stir constantly. Allow this mixture to boil for a full minute. Now remove this sauce from heat. I like to allow this to sit for just a minute.
Check to see that the potatoes are tender. If they are, add the cream sauce to the potatoes. Bring to a boil and serve warm! This serves about 4-6 people.
OPTIONAL:
To make soup a bit thicker, stir in shedded cheese just before serving or plain yougart for a tangy twist. You can also throw in some chopped carrots and celery for added vitamins and minerals, I didn't only because I didn't have any.
NOTES:
I like to use one of those vidalia onion chopper things to chop up the potatoes. This makes them a great size for kids/toddlers and they cook quicker when they are smaller!
The cream sauce part comes from the Creamed tuna and peas recipe on hillbillyhousewife.com (
http://www.hillbillyhousewife.com/creamedtunapeas.htm
)
I'm not really positive about the serving, but my husband had 2 bowls, I had 4 (2 at dinner and 2 after the girls went to bed, man that makes me sound like a pig!), my daughter had 1 and my toddler had a very small bowl, plus there is one bowl left over for my lunch today! It just depends on how big your bowl is!
THE REPLACEMENTS:
Chicken stock/broth for the bouillon cubes and water
Margerine/oleo/whatever for the butter
Almost any type of potato will work, whatever you have on hand
All-purpose flour for the whole wheat flour
Seeing as how I had no milk or sugar, I made some milk from some non-fat dry milk I had in the cabinet. This is a great thing to keep around for when you do run out of milk! And instead of 1 tsp of sugar I used 1/2 tsp fructose that I had in the cabinet.
If you eat no processed foods then you can make your own broth/stock or even your own bouillon cubes, but that is another blog for another time!
MY RATING: 5 out of 5 potatoes!