So it has been a little while since I have blogged my dinner, but the good news is that I have finally gone grocery shopping! I took advantage of sales and coupons and got $165 worth of groceries for $90!
Since I have food once again I can cook so many things! I have made a new friend and she is going to come over and we are going to make some Couscous together. Well that got me inspired and I decided to have some yummy Curry for dinner last night.
The recipe came from a Reader's Digest book by the title
Homemade.
This book has proven time and time again to be a great buy! It gives you instructions on how to make everything from cleaning products to food, from fertalizers to home remedies, it even has pet food recipes!
Curry with Rice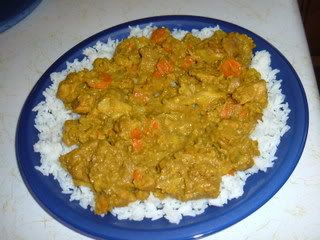 1/4 c all-purpose flour
1/2 tsp salt
1/4 tsp ground black pepper
1 1/2 lbs skinless, boneless chicken or turkey breasts or thighs, or lamb, cut into 1 inch cubes
3 tbsp vegetable oil
1 large yellow onion, chopped
1-2 tbsp Curry powder
1 3/4 c chicken stock or reduced sodium canned chicken broth
4 medium carrots, peeled and cut crosswise into 1/2 inch slices
2 c cauliflower florets (about 1/2 head medium cauliflower)
1 1/4 c basmati rice
In a large, self sealing bag, combine the flour, salt, and pepper. Working in small batches, add the chicken, turkey, or lamb to the bag, seal and shake to coat the meat with the flour mixture.
In a large skillet with a tight-fitting lid over moderately high heat, heat the oil 1 minute. Divide the meat into 2 batches. Add one batch to the skillet and saute until lightly brown, about 5 minutes. Remove the meat to paper towels to drain. Repeat with the remaining meat.
In the drippings left in the skillet, saute the onion, garlic, and celery, stirring occasionally, until soft, about 5 inues. Add the curry powder, stock, carrots, cauliflower, and reserved meat to the skillet. Reduce the heat to low, cover, and simmer until the cauliflower is just tender, 20-30 minutes.
Meanwhile, in a large saucepan over high heat, cook the basmati rice following the package directions. Transfer the cooked rice to a large, heated serving bowl. Spoon the curry over the rice and serve immediately.
NOTES: This note was at the top of the recipe in the book:
Flavorful, economical, and easy to prepare, curry is one of the most adaptable recipes you'll ever make. It's a fast and easy way to use up leftovers. Meat, poultry, seafood, vegetables, just about anything can be used to make curry.
It also give you recipes for the curry powder and chicken stock. I just used some mild curry powder I bought at the store and boullion cubes instead of the stock.
Here is the recipe for Curry powder, I haven't tried it so I can't judge this.
CURRY POWDER
1/4 c ground coriander
2 tbsp ground turmeric
2 tsp ground cumin
2 tsp ground ginger
2 tsp ground allspice
1 tsp ground cinnamon
1 tsp ground celery seed
1 tsp ground black pepper
1/4 tsp ground cayenne pepper
Combine all the ingredients in an airtight container. Shake until all the spices are well blended. Store in a cool, dark place for up to 6 months.
MY RATING: 4 curries out of 5!